[one_half]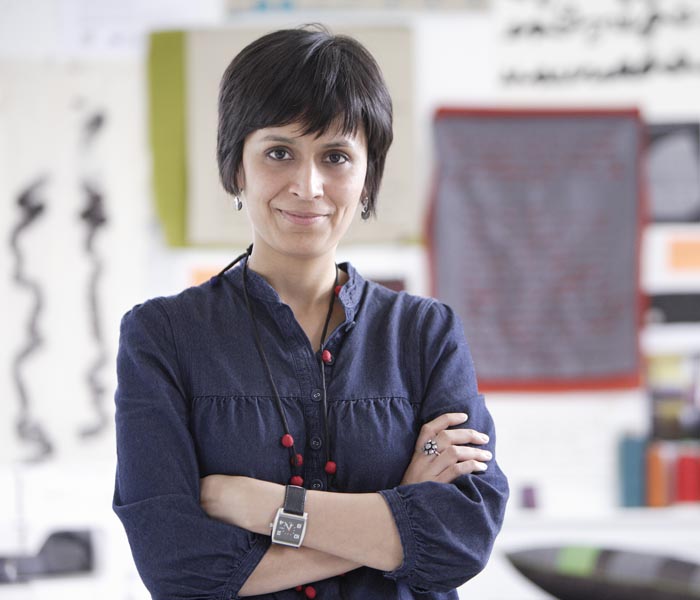 [/one_half]
[one_half_last] Ekta Kaul is an award winning textile designer. Her textiles are imbued with character, they speak of exceptional hand craftsmanship, simplicity and timeless style.
Soft cashmeres, sumptuous silks & fine wools are embroidered, hand-dyed and printed in simple graphic compositions using time-honoured methods. Ekta creates bespoke quilts based on city maps & small editions of scarves in bold colours.
Following her training in Fashion at India's premier design school, the National Institute of Design, Ekta won the Charles Wallace and British Council scholarships to pursue MA Textiles in the UK & developed a unique creative voice assimilating influences from both countries. Since setting up her studio practice in 2008, she has gained the following of a discerning audience – those who value considered design, integrity of materials & attention to detail. Her work is stocked at select stores & galleries in the UK & the USA including Museum of Art & Design NY, Contemporary Applied Arts, Designers Guild, Ruthin Craft Centre among others. She has received awards from the Crafts Council and the Arts Council, England & was nominated for the Arts Foundation Fellowship in 2010. She works from her studio at Cockpit Arts, in central London.
Click here to buy our beautiful textiles.
Interested in stocking our work? Click here.
Awards
Finalist for Crafted- Walpole and Arts & Business Award, 2011
Nominated for Arts Foundation Fellowship, 2010
Grant for the Arts, Arts Council of England, 2008
Craft Council's business set up award 'Next Move', 2007
Selected for NESTA's entrepreneurial support programme 'Starter for Six', 2007
Chosen India's top 20 Creative Futures by the British Council, 2006
Awarded Scottish Executive's Scottish International Scholarship for MA, 2005
Awarded British Council's Charles Wallace Trust India Scholarship for MA, 2005
[/one_half_last]