06 Jan

Come join me at Chiswick Without Borders 28 Jan 2018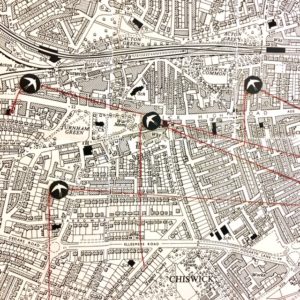 Happy new year! Welcome to my new embroidery project.
'Chiswick Without Borders' is a participatory art project that invites you to stitch your connections to the world with a symbolic migratory bird- a swallow and its flight linking the map of Chiswick to places around the world. Connect your house to a place where your family comes from, or where you loved ones are or simply a place which is dear to your heart using simple embroidery stitches. At a time of growing insular voices and inward-looking gazes this project invites everyone to celebrate openness and connections through the convivial act of stitch.
I was invited to conceive and lead this project by the wonderful  Abundance London. If you have never embroidered before fear not, a team of lovely volunteers will be on hand to help. The project will take place under the arches of District and Piccadilly lines at Turnham Green Station, Chiswick W4 1LR on Sunday 28 Jan 2018 from 12:30-3PM coinciding with the unveiling of Chiswick Timeline. Entry free and everyone is welcome.
I hope you will join us! Sharing some images of work in progress here with you.