18 Oct

Portrait of Place – Hounslow & Ealing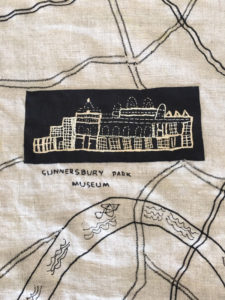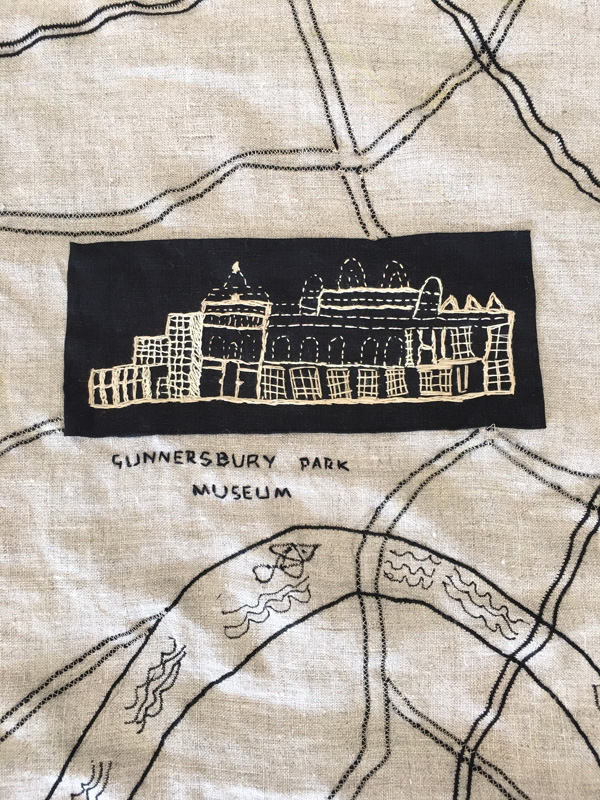 Let's talk about Art and it's place in a society. Art is without doubt what makes our values, concerns, hopes and despair visible. We usually think of it as an object/idea made with meaning, something to cherish. I think it goes beyond that. To me, art is what brings people together, breaks down barriers, rallies for social justice, rebels against stereotyping.
When I began working on my project 'Portrait of Place' commissioned by Gunnersbury Park Museum I wanted it to encapsulate these ideas. I wanted the materials, processes and the outcome to speak eloquently on breaking down barriers/stereotypes, building confidence, celebrating diversity and ultimately stand tall as an object of beauty, inside and out. A tall order you might say! And I agree :) . It's hard enough to articulate these thoughts into words, without even trying to communicate it to others.
So after brainstorming multiple ideas, I settled on the strongest- a stitched map that celebrates the diverse local community in the area marked with places that are personally and collectively significant to community members. .
I collaborated with members of two community groups in the area, namely Deaf and Hard of Hearing Women's group in Ealing and Heston Big Local in Hounslow to co-create this piece. Over 10 weeks I introduced members to stimulating elements aimed at developing their creative confidence and skills. For instance, seeking inspiration in nature and local architecture, eco-printing, patchwork, drawing and embroidering personal responses.
To express the idea of diversity and a sense of place, I looked at the Museum's Park itself for inspiration. Just as non-native plants imported hundreds of years ago co-exist with native ones and make Gunnersbury a vibrant park. Similarly people from all over the world have come and made this West London neighbourhood their home, some recently and others centuries ago, all coexisting, making it a richly diverse community. Therefore, marking the map with the Park's diverse foliage seemed an appropriate choice. The participants foraged leaves from the abundant trees, shrubs and the meadow at the Park and eco-printed fabric lengths which later became borders of the map. They also chose iconic and personally significant buildings, streets and gardens to embroider, patch and stitch on the map.
Many hands, heads and hearts came together to make this Portrait of Place including young people, seniors with generous support from the Museum. Beyond the visible outcome of the project, there is a rich hidden legacy- the many new friendships that flourished, new skills that were learnt, barriers that were broken as direct result of this project. As a participant happily remarked, "We're all unique and this project brought us together as one. This project is an inspiration and encouragement.
I hope that the legacy of the project will continue inspire many for years to come. Go see it Gunnersbury Park Museum. The exhibition continues till 12 Jan'2020, entry is free.
——–
Lead Artist                                        | Ekta Kaul
Commissioned and Managed By | Gunnersbury Park Museum
Community Groups                        | Deaf & Hard of Hearing Women's Group Ealing,
HestonWest CP, Hounslow